The second of two colorways available, see the official release of the White/Yellow/Brown Adidas Predator X.

This is the tenth incarnation of Adidas' game changing Predator. The Predator X was created for the leaders on the field; powerful players like Ballack, Gerrard, Van Persie and Beckham. Every single element is designed to improve performance. The White/Yellow/Brown colorway is one of two available at the Predator's initial release, and is really the second colorway behind the classic Adidas Predator colors. David Beckham will be wearing this colorway in the MLS Play-Off's as it matches his L.A. Galaxy kit. Free Shipping with Orders of $100 or More! Use code: 1FALL100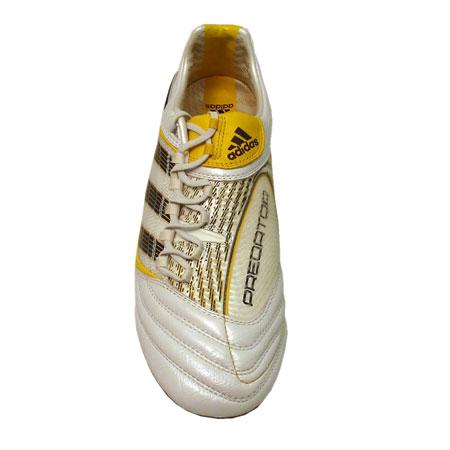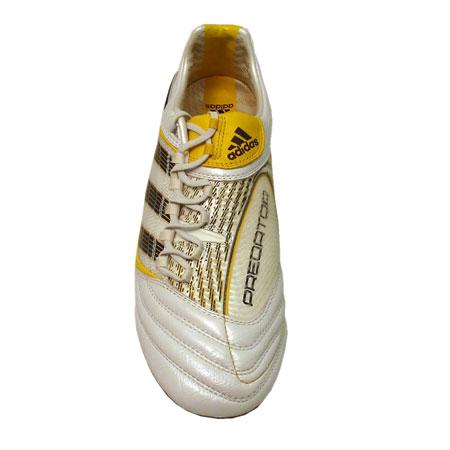 Spec:
Adidas has developed a revolutionary new upper material called Taurus. It's a full-grain calf leather that combines unsurpassed softness with a light weight, durability and weatherproof features. It's a high-end supreme touch performance leather that is also extremely durable.
Optifit construction reduces the material between the ball and foot to an absolute minimum for a snug and almost barefoot feeling. Optifit involves a new last, Traxion, Thermoform, a medial 3-D design and mono-tongue. The new last has a more sculpted arch and more volume in the forefoot.
Thermoform window on the side of the boot holds heat moldable foam that follows the shape of the last for a snug, comfortable fit, eliminating any unnecessary gaps or materials.
Redesigned Predator completely covers the strike zone with a rubber-silicon mix. Placed in an optimized position, this soft compound provides the ultimate swerve, control and accuracy in any condition through an increased contact time with the ball and incredible friction on the ball.
The newly developed internal chassis contains a revolutionary Powerspine that minimizes energy loss and maximizes power. The Powerspine redirects power directly into the ball while offering important metatarsal protection.
Asymmetrical loop lacing for a larger, cleaner kicking surface with innovative taper lace design which further reduces material between the ball and your foot.
Dual compound Xternal heel counter is smaller but extremely strong and reduces pressure on the Achilles tendon.
An EVA heel pad cemented onto the chassis ensures premium cushioning on hard surfaces.
Traxion FG for grip and comfort on firm, natural surfaces.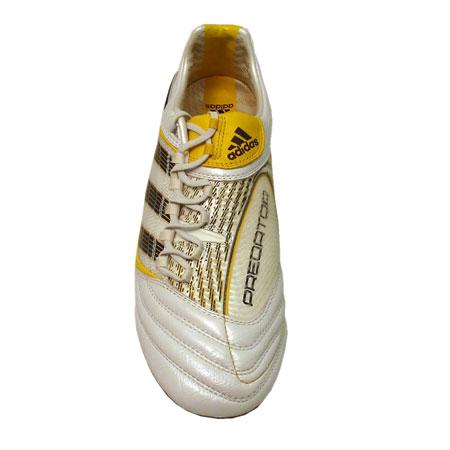 Details:
Family:

Predator

Ball Control Elements:

yes

Ball Control Type:

Predator

How Attached To Upper:

Cemented

Insole Material:

EVA foam

Insole Removable:

yes

Lacing:

Asymmetrical

Outsole Material:

Traxion PU

Primary Upper Material:

Leather

Stud Material:

PU

Stud Shape:

Bladed

Suitable For:

Firm Natural Surfaces

Weight:

11.2 oz.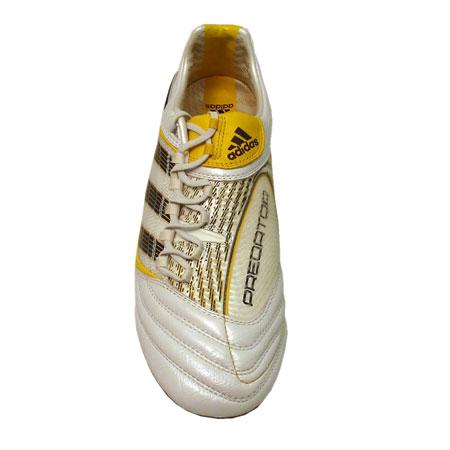 Photos Courtesy of JustSocca.com
The new Predator is now available for pre-order at JustSocca.com as well as Soccer.com with this discount code- Free Shipping with Orders of $100 or More! Use code: 1FALL100
.