FC Barcelona have announced that Qatar Airways will appear on the club's kit from 2013/14 onwards, replacing the Qatar Foundation.
Barcelona used to be a club that shunned corporate sponsors, paying Unicef for a number of years for the charity to be the club's main kit sponsor. Now, in a display of the change in the club's policy, Qatar Sports Investments and the Catalonian giants have agreed to place the Qatar Airways on the front of its kit. The move is a complicated one, involving Barcelona and Qatar Sports Investments. Qatar Sports Investment signed a deal with Barcelona last year, and as part of the deal, QSI opted to have the Qatar Foundation on the front of Barca's kit. Now however, QSI have opted to have Qatar Airways be the main kit sponsor for Barca. Speaking about the deal, Barca vice president said
Qatar Foundation has been the beneficiary of the contract (signed with QSI) for the last two years and starting from July 1 it is going to become Qatar Airways… they have expressed their intentions to increase their investment in Catalunya.
According to Barca's website, the club's lucrative deal with QSI, worth $36.5 milliion a year, has a clause which allows QSI to change the logo on the shirt from the third year of the deal.
The contract signed with QSI permits the possibility of including a new logo on the shirt from the third season of the agreement, as we reported to the Assembly of Representatives in September 2011.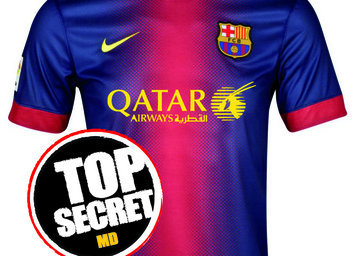 The deal with QSI was met with disapproval from many due to Qatar's poor human rights record. However, in response to these concerns, Barca responded saying that the club needed as much money as possible to continue competing at the highest level.
apparel, barcelona, jersey, nike