This spot appears to have been overshadowed slightly by the release of the brand new adidas Nitrocharge 1.0s, but it is big news none the less. Not only have we spotted Mesut Ozil in a pair of unreleased adidas boots, but also that fact that he's in said boots means he has officially ended his affiliation with Nike. Thanks to @Justin_Bilyeu on Twitter, and Ahmad C. on Facebook for this fantastic spot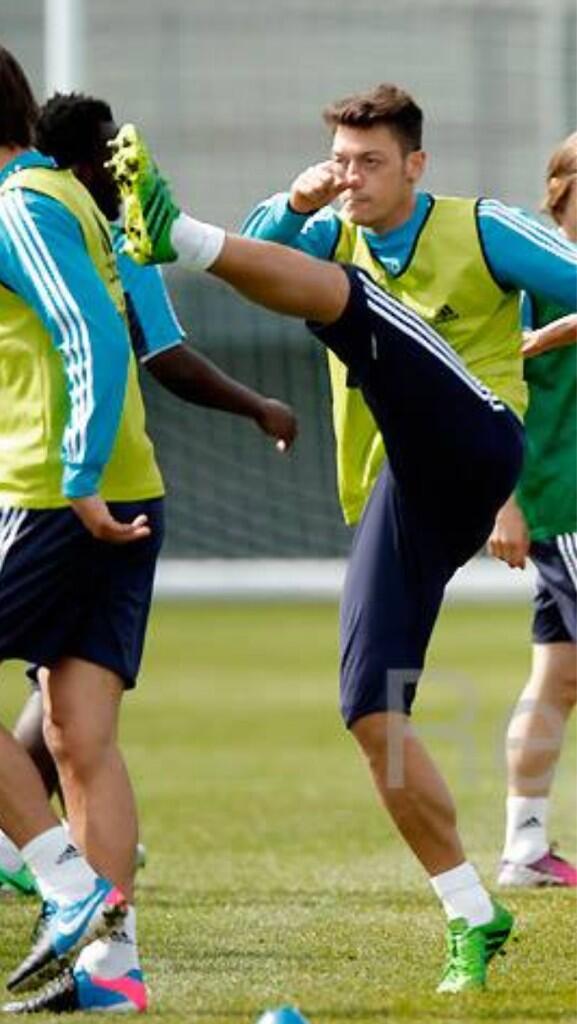 It appears that the Nitrocharge won't be the only brand new adidas boot released this summer! While details are scarce at the moment, we believe this may well be the launch colourway of the boot. Other than that, what can we make out from this picture? Well, first of all, it appears that the now classic SprintFrame remains on this model. Ozil has a miCoach cavity on his boot, something that is pretty rare on professionals boots as many adidas sponsored athletes like the Sprintframe without the cavity.
We can also see that the design is completely different, the tongue is longer than the past LZs, and the Lethal Zones themselves have been slightly redesigned to help give you that extra performance boost. If you look at Ozil's left boot, you can see the 'dribble' section has changed slightly and this applies to all of the other zones.
Apart from the fact that Ozil is in the unreleased Predator LZ II, another bit aspect about this spot is the fact that the German international seems to have finally signed on with adidas for good. You may remember that last summer Ozil was involved in a court case with Nike, after he was accused of breaching contract by playing in adidas boots. Ozil was ordered by the court to wear brand-less boots for 180 days, after which he switched into the Mercurial Vapor. This spot suggests that his heart (or rather his pockets) was always set on adidas, and if he wears adidas boots in the Copa Del Rey final, we can presume that a switch is definitely in the process of occurring.
Keep it locked on soccerreviews.com over the next few weeks as we believe the full unveil on this redesign isn't very far away at all, and as always, we'll be getting our hands on a pair for an official review. What do you make of this spot? Surprised at Ozil's continued persistence with adidas? Let us know below!
adidas, boot spotting, cleat, predator, unreleased