Umbro has gone back in time for inspiration for their latest collection of football boots, using the philosophy of founder Harold Humphreys that is employed to create every product of the British brand:
"There are three things which constitute the ability to succeed – enthusiasm, tenacity and sheer damned cheek, but all in good measure."
The so-called "Triadic" boot pack involves ultra-clean white paint jobs, with a different colour pop to highlight the three elements for success, and to emphasise the balance of the three parts of the formula, the colours chosen are equally spaced around the 'colour wheel'.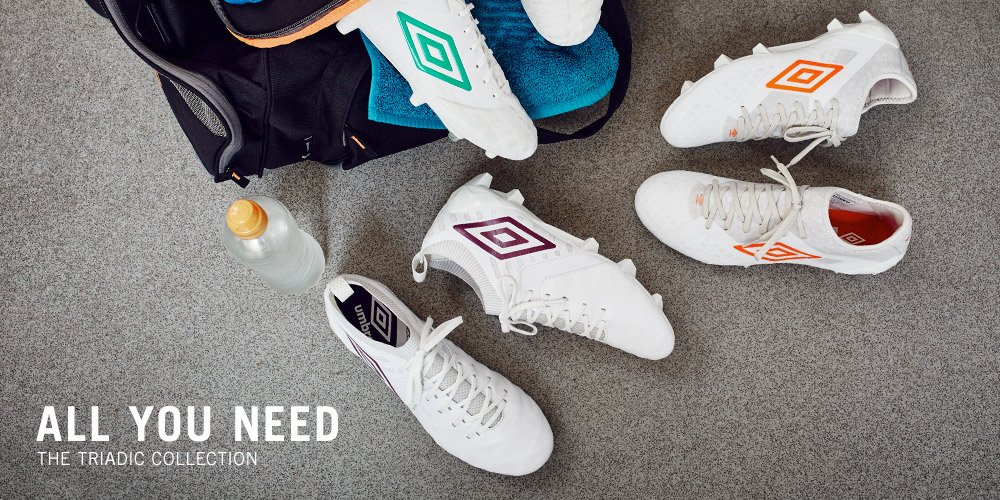 The Medusae II Elite gets a splash of 'Winter Bloom' colour to represent "Enthusiasm" – for the player who enjoys being on the ball no matter where it is on the pitch, aided by the Speed and Touch afforded by the Umbro speed outsole and the one-piece K-leather upper.
The UX Accuro Pro has a touch of 'Vivid Green' representing "Tenacity" – the deadly comfort of the boot allows grip and accuracy to become second nature to the player who can control and impact the game from start to finish.
The Velocita Pro has an accent of 'Scarlet Ibis' for that "cheeky" extra pace to beat your opponent – given the lightning speed afforded by this boot.
cleat, cleats, umbro, umbro