Where does your football come from? My prized adidas UCL football from the 05-06 Champions League season was made in Thailand, while my Nike Total 90 Omni matchball was made in China. In an effort to reduce the over heads, the big multi national companies are outsourcing their labour to Asia. This often results in your gear being made in sweatshops, and potentially through child labour.
It's a monstrosity, but fortunately, one company coming out of Oakland in California has decided to do something about it. Senda Athletics produces Free Trade soccer gear, meaning everything is based on a partnership between producers and consumers. Fair Trade offers producers a better deal and improved terms of trade. This allows them the opportunity to improve their lives and plan for their future. In other words, all workers are paid the national minimum wage and there is no child labour in the production of the good.
Senda Athletics have introduced themselves to the market with three different footballs that are intended for different levels of use. Soccer Reviews has had it's hands on the top of the range Rapido Premier ball for the past few months, which is intended for the highest levels of competition, and now it's time to release our findings.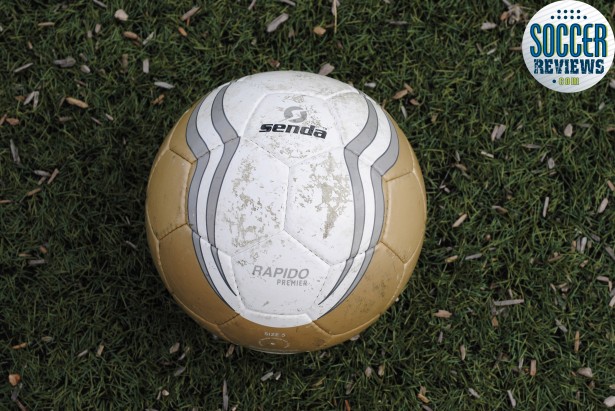 Feel
The Senda Rapido Premier ball is your stock standard 32 panel ball, but it's actually made from PU panels and it also contains a latex bladder. One of my first impressions when I picked up the ball and started to push it between my hands was that it felt a little on the 'cheap' side. It doesn't have that soft spongy feel I'm normally used to with a football, it was just a little bit harder than what I'm normally used to. It actually reminds me of the feel of the Mitre Ultimax football. This is one of the negatives I found with the Senda Rapido Premier. If I was to pick the ball up in a store and feel it in my hands, I'd probably be put off by the feeling of the ball. However, in saying that, there is a nice grip on the surface of the ball. A lot of footballs on the market are rather slippery, and this is an absolute nightmare for goalkeepers. The PU panels have a nice feel to them, which counteracts the thoughts I had of the ball earlier.
But any qualms I had earlier were erased once I started using the ball properly. There's several things that I loved about the Senda Rapido Premier. Ball control was an absolute joy. It seems the Rapido Premier has a multi layered construction and, while this isn't advertised on the Senda Athletics side, you definitely notice it when you start to use the ball. You'll have no concerns with the ball suddenly flying off your foot when you try and control an aerial ball. The construction of the ball allows for superior touch and it rebounds nicely off your foot. Not only that, the ball has a really nice dip to it when you hit it. Some of the footballs on the market seem to be difficult to get a nice amount of dip and swerve on the ball when you hit them. You won't have any problems like this with the Senda Rapido Premier.
Striking
While the ball may be a little harder than I'm normally used to, this really benefits the player whenever you're striking the ball. With the harder outer surface, you can put your laces through the ball with full confidence that the ball won't loop or deviate in the air. But it's not just going for goal where the Senda Rapido Premier excels. The ball rebounds nicely off the foot, allowing sharp and crisp short passes and accurate long passes up the field.
Remember how I mentioned earlier that the ball has a nice little dip to it? You get a really controlled dip to the ball when you strike it, and it's this that makes the Senda Rapido Premier football one of the more memorable footballs I've ever played with. It's so responsive, and it's something that myself and my team mates thoroughly enjoyed while we have been using the ball. From a flighted free kick to a drilled pass up the pitch, I can definitely say this is probably one the things that I will say is the reason to have this ball. It's brilliant, and it is definitely the best aspect of the ball.
One thing I find is a problem with mid priced footballs is that when they have a little bit of a harder outer layer like the Senda Rapido Premier, it often means the ball is great when you want to drill the ball, but it's hard to wrap your foot around the ball to curve it. But the harder outer layer gives away really nicely when you want to wrap your foot around the ball. I'll put my hand up and admit that this could possibly be one of the best footballs I've ever used when it comes to striking. It's a brilliant all rounder, and it's something that anyone who uses the ball will appreciate.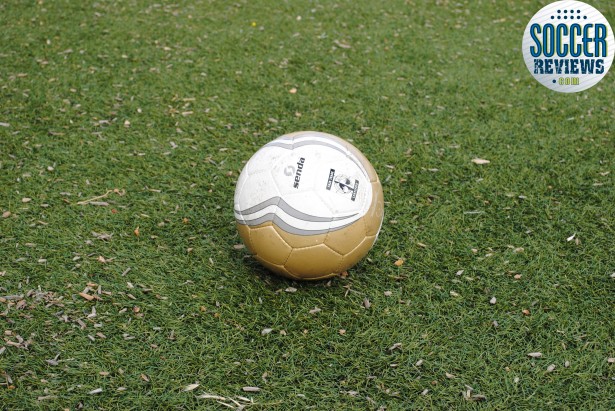 Durability
I've used the Rapido Premier for the past 2 months or so and I've been using the ball on the toughest surface possible, synthetic grass. While it's pretty obvious in the photos that the ball has taken a few marks on it, it's something that's pretty unavoidable on any football. But the Senda Rapido Premier comes with a 3 year stitching and shape guarantee, which is a brilliant thing when you consider most footballs at the Senda Rapido Premier price range often don't carry a guarantee as long as this.
Value
This isn't often something I touch on when I review a football, but I think I had to make a special mention of this when reviewing this ball. I've raved on about the striking benefits of the ball, and it could be better then some of the higher priced footballs on the market when it comes to this aspect. But there's one thing I haven't mentioned yet, the price. When I first read that Senda Athletics footballs all carry the Free Trade certification, I thought you'd be paying a premium for it. Think about it, if you go out and buy something that's Free Trade or organic, you sometimes pay double or triple what you would pay for a regular product.
But the amazing thing is that this is probably the same cost, if not lower, than the regular footballs on the market. The Senda Rapido Premier is the top tier football sold by Senda Athletics, it performs as good as, if not potentially better, than some of the top footballs on the market, and it comes in at $57. The Puma PowerCat 2.10 football that I reviewed late last year came in at $70, and I thought that ball performed very well for a mid-price level football. The Senda Rapido Premier performed better than the PowerCat 2.10, and you're going for the Free Trade option too if you go for the better performing football, if that helps you to get to sleep at night.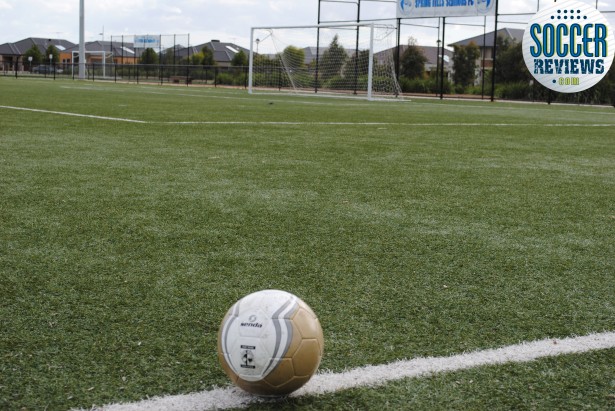 Conclusion
When you consider what sort of footballs are available for under $60, you get to appreciate how well Senda Athletics have done to produce such a high quality ball at a relatively low cost. The ball performs just like a football that costs $80+, yet you can pick it up for under $60 on the Senda Athletics website. While it may not feel like the best ball when you pick it up for the first time, it shows it's true self once you start to knock it about on the pitch. Senda Athletics now have a tough task to complete. They have a quality football on their hands, now they have to get it out onto a market where people seem more inclined to pick a football with a tick or three stripes on it rather than some brand they've never heard of before.